Jessica Daze, B. Sc.
WILDLIFE BIOLOGIST
B. Sc. Biology & Environmental and Resource Science (2022)
Ecosystem Management Technology (2020)
Jessica first joined Owl Moon Environmental Inc. in 2023 as a Bander-in-Charge for the Boreal MAPS program and stayed on as a full-time Wildlife Biologist. She has previously worked in the environmental/biology field through bird banding, aquatic monitoring, and environmental education in Ontario. She has volunteered on research projects that have involved amphibians, reptiles, birds and plants in both Ontario and Costa Rica as well. Her main responsibilities include supporting the Oil Sands Bird Contact Monitoring Program, the Boreal MAPS project and other various wildlife monitoring projects taken up by OMEI.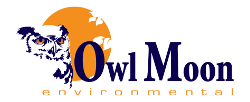 OWL MOON ENVIRONMENTAL INC.
324 Killdeer Way, Fort McMurray, AB  T9K 0R3
(403) 512-4039