CHRISTINE M. GODWIN, M.SC., M.ENG., P.BIOL.
MANAGER, ECOLOGY GROUP
Ms. Godwin is a professional biologist and project manager with over 20 years of field and analytical experience in the area of wildlife ecology. She has considerable experience managing wildlife studies for a diversity of species and species at risk, with project work in the boreal forest, alpine landscapes, prairie grassland, and northern tundra habitats. Her experience includes:
Avian exposure to inorganic contaminants from waste-materials associated with oil sands mining;

Development and implementation of the Boreal MAPS program in the oil sands region to collect demographic data on landbird populations, and Oil Sands Bird Contact Monitoring Program, monitoring waterfowl landings and bitumen exposure on oil sands tailings ponds;

Wildlife reclamation monitoring, including the MAPS protocol, automated recording units to collect acoustic recordings of diurnal and nocturnal birds, and amphibians, as well as ultrasonic recordings of bats, camera-trapping, and small mammal track plates;

Certified Bear Awareness and Avoidance Instructor, ASC;

Project manager responsible for the coordination of large multi-disciplinary teams, technical editing, and filing of regulatory applications, including Environmental Impact Assessments (EIAs);

Wildlife inventory and monitoring programs for energy and infrastructure projects using aerial and ground surveys for ungulates, carnivores, waterfowl, and raptors, songbird point counts, call surveys for owls and amphibians, bird and bat capture using mist-nets, and bat acoustic surveys;

Specializes in bat studies; and the capture and acoustic monitoring of bats with projects in Alberta, British Columbia, Ontario, and Nevada, USA; and

Radio-telemetry studies on bats, and grizzly bears, DNA sample collection from bats and wolverines.
Chris brings a significant level of experience and problem-solving talent to all projects, resulting in effective solutions to resource development and wildlife conservation challenges.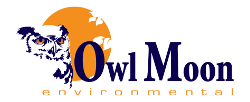 OWL MOON ENVIRONMENTAL INC.
324 Killdeer Way, Fort McMurray, AB  T9K 0R3
(403) 512-4039