PRISCILLA W. L. LAI, B.SC.
BIOLOGIST
B. Sc. Zoology (2009)
Priscilla first joined Owl Moon Environmental in 2012 as a bird bander for the Boreal MAPS team and later became a full-time Biologist in 2015. She has been involved in various ornithological research since 2006, ranging from conducting breeding bird surveys to bird banding for songbird and raptor migration monitoring and productivity/survivorship studies in Ontario, Alberta, and Oregon. Her main responsibilities include coordinating and supervising the Oil Sands Bird Contact Monitoring Program, leading field crews for various wildlife monitoring projects, analyzing data from wildlife camera traps and small mammal track plate studies, writing reports and protocols, and updating the Owl Moon website.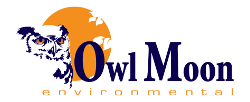 OWL MOON ENVIRONMENTAL INC.
324 Killdeer Way, Fort McMurray, AB  T9K 0R3
(403) 512-4039