KIMBERLEY WETTEN, B.A.
BIOLOGIST
MNRM (in progress), B. A. (2014)
Kim first joined Owl Moon Environmental Inc. in 2015 and worked as a bird bander for the Boreal MAPS program for three seasons. She then left to start her Masters of Natural Resources Management (MNRM) at the University of Manitoba's Natural Resources Institute where she focused on bird morphology in the south Caribbean. While continuing to work towards completing her thesis, Kim returned to OMEI in 2019 as a Wildlife Biologist and Program Supervisor. Her main responsibilities include coordinating and supervising the Boreal MAPS program, leading crews in field projects, conducting boreal bird research using automated recording units, report writing for the Oil Sands Bird Contact Monitoring Program, data management, and engaging in public education programs.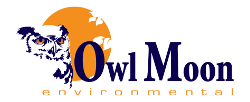 OWL MOON ENVIRONMENTAL INC.
324 Killdeer Way, Fort McMurray, AB, T9K 0R3
(403) 512-4039