As company owners and employers, we take the safety of everyone in the Owl Moon Environmental Inc. (OMEI) team seriously, and we are committed to the health and safety of employees, contractors, subcontractors, partners, suppliers, visitors and volunteers while engaged in any aspect of our business.
It is the policy of OMEI that injury and illness prevention is a primary component in all aspects of our work. Safety is a condition of employment with our company, and will not be sacrificed for the sake of expediency. We require that everyone comply with our health and safety standards when participating in our projects and programs, while at the same time promoting a culture of open discussion of workplace safety. To meet our responsibilities, we will operate under the following guiding principles: 
Management and supervisors are responsible for providing a safe working environment and for ensuring that work is performed at or above accepted standards;

Because no set of rules or safe work practices can cover all situations that arise, managers, supervisors, employees, contractors, and visitors are empowered to identify unsafe conditions and to initiate an appropriate response to those conditions that are guided by the policies and procedures in our Health & Safety Manual;

Employees will be adequately trained and competent, and will apply their training to perform our work safely;

As a team, take steps to reduce the impact of our activities on the environment; and

Continuously improve by openly communicating our successes and our challenges.
We will maintain a Health & Safety Program conforming to the best practices of organizations performing environmental services, and to those of our customer companies, while complying with all applicable laws and regulations. The safety information in this policy does not take precedence over government legislation. Employees should be familiar with the Occupational Health and Safety Act, Regulation and Code. A successful program starts with proper attitudes toward injury and illness prevention on the part of both management and employees, who work collaboratively in all health and safety matters.
April 1, 2016
Effective Date
Original signed by:
Kenneth R. Foster, Ph.D., P.Biol.




Owner




President

Christine M. Godwin, M.Sc., M.Eng., P.Biol.




Owner




Manager, Ecology Group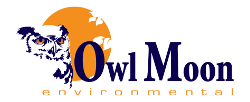 OWL MOON ENVIRONMENTAL INC.
324 Killdeer Way, Fort McMurray, AB  T9K 0R3
(403) 512-4039